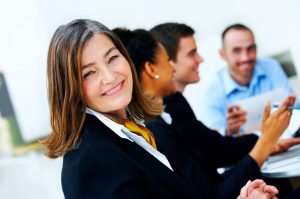 Successful business women need to create (and maintain) a high value image for the products or services they (or their company) represent.
And the best way to create and maintain that image is when your staff, team or employees emulate your core corporate values by looking, and dressing, the part.
Invest in your most important asset – your employees.
Corporate Image Consultant
Style of Success can help you to ensure that your employees – your most powerful brand ambassadors have the tools, skills and the physical appearance and professional presentation to complement your company's corporate brand or image.
From the CEO and Captain of the ship to the customer service staff; including the traditionalists, the babyboomers, the X'ers and the millenials, SOS can educate and inspire each of those groups to make the business attire changes they need through group presentations and one-on-one coaching in the areas of:
Supporting existing corporate dress codes
Educating what is appropriate dress for your industry and defining "business casual"
Specific dress for success clothing guidelines
Accessories, hair and grooming choices
Body language
Business and dining etiquette
Large corporations as well as small businesses that have a unique personality all need to create a unified front that represent their brand, products, or clients as well as a strong message that they are professional and knowledgeable. No matter what your company sells or what expert services you provide, people "buy" from those they perceive "look the part."
Quite simply, your "visual credentials" are just as important as the quality of the products you sell and services you provide.
Let SOS help you attract new clients, solidify the relationships you have, as well as establish impressive credibility among your business peers. Give the people who represent your company this critical piece of the success building puzzle and give them a major advantage in the work place.
Corporate Image Consulting Services
Provides sales revenue generating dress for success company presentations
Creates CEO and Executive level perceptions from key players in management
Supports company dress code education and demonstrate benefits to increase employee participation.
Looking your best equates to living your best!
And the easiest way to start is to make a single phone call…
Call 800.798.1643 (or CLICK) for your FREE
no-strings 15 minute phone consultation today!