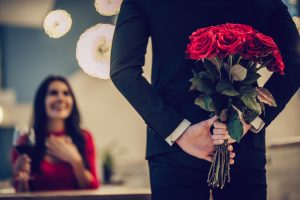 Gents – here are a few ideas that will rev up the fun of Valentines Day!
Show up for dinner looking like you TRIED and CARE. 
How?  Surprise her with a new piece of apparel that she didn't pick out/shop for you in a new color. 
Think pink, orange, berry, yellow, light green – something that matches your eyes or your hair or your skin tone (and then point it out). 
Wear a "real" color.
Women respond (actually we all do) emotionally to color.  Red means passion.  Black means drama.  Pink means sweet and approachable.  
Wear a jacket.  It looks more authoritative. And manly.  Wearing a jacket does not have to mean "fancy".  It means dressed.  If your only sport coat is 10 years old with gold buttons please call me.  Over jeans is just fine, but if she is dressing up, you put on a jacket.  And maybe tuck in a surprise – a pocket square that you picked out yourself?!
PS  Bonus tip:  start the evening out at the bar.  Why?  Because its fun and sexy to order a fancy cocktail and sit close to each other.Want to know how to make your date night wardrobe work for you?
I am a woman 🙂 AND an internationally certified image consultant. I bring confidence, organization, efficiency to your life.