There's a seismic style shift going on in the professional world today.  Suddenly, ascending through the ranks to success more often now does NOT depend on wearing a suit.
Even Wall Street titan Goldman Sachs has loosened up its dress code to make suits and ties optional, offering further proof that work "uniforms" are changing. Just look around your office — if you still even work in one. (source Askmen.com)
Chino's as preferred everyday pants are more popular than ever.  What is critical to their application is HOW you wear them, and FIT is the critical factor.  Fit is what aligns prepared and professional with casual.
Too loose/long/baggy = sloppy and careless.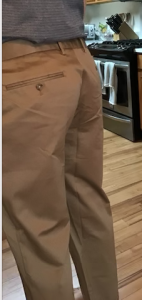 1) have a minimal "break" in the length of your pant.  You want a clean line, not a bunched up look .
2) wear a chino with some performance/stretch fabric (see these J.Hilburn custom chinos) because they have some resilience and fabric "memory" that reduces stretching and "baggy butt".
3)  Ensure the leg is narrow enough to look current.
These chinos are super "dated".  AVOID pleats.
Too tight, however, is unprofessional 
1) avoid "pocket flare" out
2) avoid the male version of muffin-top
3) avoid the seat of your trousers completely following the curve of your own seat.  There should be some looseness below the hip.
Aim for a little air – a little "drape" to your trousers – so they lay flat across your body without pulling.
This is a nice modern length and leg opening.
"Image consulting" is about ensuring your clothing fits your
1) body
2) lifestyle
3)budget
AND is in proportion to the rest of your features.  See this young man?   Look at the size of his feet in proportion to the width of his pant leg?  His feet (which clearly are large) look REALLY large.  He needs a more tailored shoe, always the same color as his pants with a little more width on his lower leg to add balance….that is another story.
I am a Personal Image Consultant and a J Hilburn Stylist, Trainer and Recruiter
I bring confidence, organization, efficiency to your life.