What says summer style better?
Page 1 of June's Esquire Magazine features this fine Boss cotton summer suit.  Described as minimal, precise and razor sharp.
It's $945, which is a nice price point – if it were wool!  Its ready to wear, which means it fits great  – if you are a perfect off the rack fit! For everyone else, I can have this gorgeous luxury cotton suit created for individually for  YOU, that fits YOU (even if you are not perfect), with the details and style features YOU choose, and from the comfort of YOUR home or office.  Cost:  $605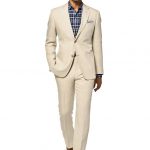 Which leaves plenty left over for those groovy sunglasses and a night out to enjoy the look!
J Hilburn:  Your Style not Ours.
Nothing fits and looks better on YOU than custom!  No pricey designer label – just you and me helping you to create the wardrobe that matches your personality, needs and budget.  Nothing fits and looks better on you. Guaranteed.
I am a Personal Image Consultant and a J Hilburn Stylist
I bring confidence, organization, efficiency to your life.