How to add Style, Dimension and Interest to your Working Wardrobe:
You did what you were told; you got the solids and a few pinstripes – but left the patterned suits to the suit salesman because when you think of plaid, you think of a cross between Grandpa and Steve Martin.  Not true!  A plaid suit can be wonderful and does not have to be in tones of avacado and harvest gold, nor does it have to resemble a kilt.
Plaid suiting is a way to incorporate style and sharp dressing with out being overly formal or stuffy.  It's a suit that, when worn properly, has an almost vintage elegance with hints of unexpected traditionalism.   It needs to be tailored to fit you beautifully – too big, or too long will spoil the look.   The pattern in a plaid can be subdued or bold.
A plaid suit is more versatile than you may think because on the days you are not sporting it as a suit, you can throw the jacket on over jeans or khakis, or the trousers look amazing with a cashmere sweater.
1.  Windowpane: A mostly solid background with a subtle shot of different colored threads going both horizontally and vertically, creating "windows or boxes on the fabrics.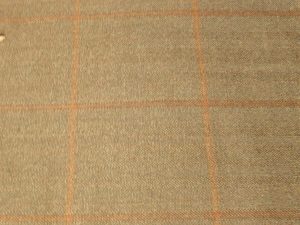 Brown windowpane with orange stripe.
2.  Plaid:  cloth made with alternating stripes and bands of color woven into the fabric. This makes blocks of color that repeat vertically and horizontally in a pattern of squares and lines.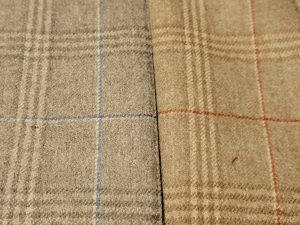 Grey Flannel Plaid with blue shot and Tan Flannel Plaid with rust shot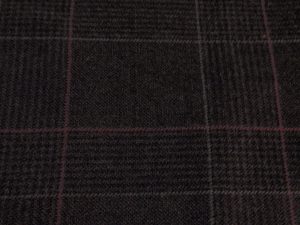 Navy Plaid with purple shot
Plaid suits and jackets have linear pattern, that is the lines are straight not curved.  Pair them with solid shirts, textured ties or if you incorporate a pattern make it a smaller, more subtle lightly checked pattern.  Definitely pick up the colors of the highlight thread running through!   Again, don't be shy – this is the suit that will get you the most complements!
For all the beautiful suiting options you need, you can trust
J Hilburn and I.
The easiest way to look your best is to make a single phone call.
What happens next?  We make an appointment, I measure you in a snap and help you choose the shirting, suiting and accessories you need and will love – and it's all  100% guaranteed!
I am a Personal Image Consultant and a J Hilburn Stylist
I bring confidence, organization, efficiency to your life.