Got pants?
I bet you have trousers in your closet that are black, brown, tan, taupe, khaki, navy and olive.
Here are two "dress in the dark" J Hilburn sport coats that I love because they are so good looking and they go with everything you own! Here's a sport coat swatch…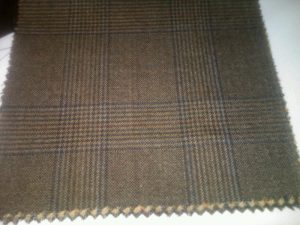 Or how about this one in Men's Journal this month. HOT and COOL at the same time!

J Hilburn brings you:
Highest quality
Custom tailoring
Great selection
Classic to modern looks
Unbelievable value
I bring you:
 In home or office convenience
Great customer service
The expertise of a certified image consultant to help you make your selections.
The easiest way to look your best is to make a single phone call.
Nothing fits and looks better on YOU than custom.
The easiest way to look your best is to make a single phone call. What happens next?
A Personal Image Consultant shows up at your home (or office), measures you in a snap, helps you choose from several hundred shirting fabrics, dozens of shirt style options…
AND beautiful dress trousers, suiting and jeans
AND gorgeous belts, leather goods and cufflinks for the trimmings,
AND fabulous cashmere sweaters and outerwear to wrap it all up,
AND it is ALL guaranteed!
I am a Personal Image Consultant and a J Hilburn Stylist
I bring confidence, organization, efficiency to your life.