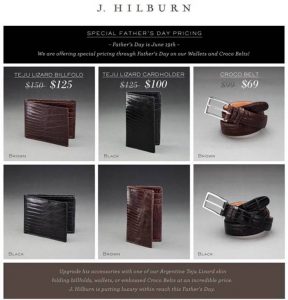 Great Father's Day Gift Ideas from JHilburn
Not sure what to buy Dad?
How about a gift certificate he can use for his custom shirt?
I will send a beautiful gift certificate and packaging to make it special – and he will LOVE the shirt.
Make this Father's Day gift as great as the day with your family! Love dressing well but too busy to make it happen?
It just doesn't get much easier than making a phone call that will result in a professional showing up at your office to:
measure you in a snap
help you choose from several hundred shirting fabrics
dozens of shirt style options
AND beautiful dress trousers
AND gorgeous belts, cufflinks, cashmere and outerwear to wrap it all up.
AND everything is 100% guaranteed.
With custom shirts starting at $89, delivery times often under 4 weeks, and help selecting your custom wardrobe by a certified Image Consultant – you cant go wrong!
Call for an appointment today, or shop on line at JHilburn.com.
I am a Personal Image Consultant and a J Hilburn Stylist
I bring confidence, organization, efficiency to your life.