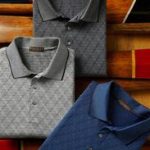 Hilburn, Custom Clothiers: Affordable Custom Menswear & Image Consulting in 1 Appointment
March Madness Sale – Just $59 for the month of March only.
These polo shirts are a unique proprietary blend of 70% double mercerized 2 ply cotton yarns with 30% Aerocoool poly to create the ultimate Performance Polo. The result is a silky knit shirt that looks luxurious and dressy, while also performing by wicking moisture from your body. Luxury elegance and performance – it's the pinnacle of polos.
And you only have to pick up the phone to get one!
Nothing fits and looks better on YOU than custom.
The easiest way to look your best is to make a single phone call.
What happens next? A Personal Image Consultant shows up at your home (or office), measures you in a snap, helps you choose from several hundred shirting fabrics, dozens of shirt style options…
AND beautiful dress trousers, suiting and jeans
AND gorgeous belts, leather goods and cufflinks for the trimmings,
AND fabulous cashmere sweaters and outerwear to wrap it all up,
AND it is ALL guaranteed!
I am a Personal Image Consultant and a J Hilburn Stylist
I bring confidence, organization, efficiency to your life.