<![CDATA[
Fabulous cashmere sweaters to stock up on now and $50 bucks back!
These cashmere sweaters are so delicious – the colors offered are great and the feel is amazing.  They are very nicely priced starting at $150,  AND
J Hilburn
is offering a $50 gift card back to you for holiday shopping.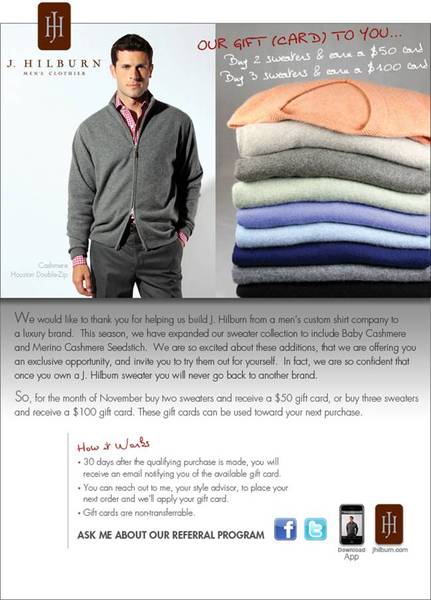 Nothing fits and looks better on YOU than custom.
The easiest way to look your best is to make a single phone call. What happens next? A
Personal Image Consultant
shows up at your home (or office), measures you in a snap, helps you choose from several hundred shirting fabrics, dozens of shirt style options…
AND beautiful dress trousers, suiting and jeans
AND gorgeous belts, leather goods and cufflinks for the trimmings,
AND fabulous cashmere sweaters and outerwear to wrap it all up,
AND it is ALL guaranteed!
Call 800-798-1643 (or click) for an appointment today!
With shirts starting at $89, delivery times in 4 weeks, and help selecting your
J. Hilburn custom wardrobe
by a certified
Personal Image Consultant
– you'll be glad you made the call!]]>