What are three of my favorite first date tips for you in my Dating Advantage E-book?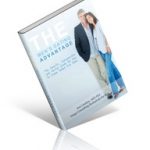 Well, that depends on who you are, because certainly different individuals and venues will inspire different suggestions, but here are a few that I really like:
1. Confidence, control and chemistry are very closely tied.
When you position yourself in your masculine she can relax into her feminine. It all can start as early as when you plan the date. Start the anticipation by following my tips how to ask and listen to her location and time preferences, and then gracefully wrap it all up and present it back to her like you are completely in control, yet also in total sync with her wishes.
2. Share an appetizer (even if you are not hungry).
The act of choosing it, prolonging the meal, managing the cutlery procedure as you then serve to her a portion is very impressive. It strengthens your position, while "treating her like a Queen" and is a chemistry building precursor to dessert (or a second date) where you can go one step further.
3. Take immediate ownership of the check when it comes.
No need to be in a rush to pay it – but just "own" it right away. She has been wondering all evening how you will handle this, and they way you are going to manage it will pay off ten-fold!
Men's Dating Advantage – The Specific, Indispensable, No-Fail Guide for Men to Create Perfect First Dates.
Written by a woman who has first hand experience for years on the subject – it doesn't get much more targeted than that! Get your copy, or buy one and forward to a single friend. It's a lighthearted, little sexy $20 read that will definitely improve your next first date And think of how much FUN that would be! :-
The way to attract the most attractive "her" starts with YOU.
And who better to give you the "insider information" than a woman?
What happens next? A Personal Image Consultant shows up to
show you the colors, the fabrics, the styles and the accessories that will place you firmly in your best light
Offer my perspective on dating questions, on line profile review, even my "mock date" for unique feedback
Help you acquire the pieces you need to look exactly like the person she WANTS  to date
I am a Personal Image Consultant and a J Hilburn Stylist
I bring confidence, organization, efficiency to your life.